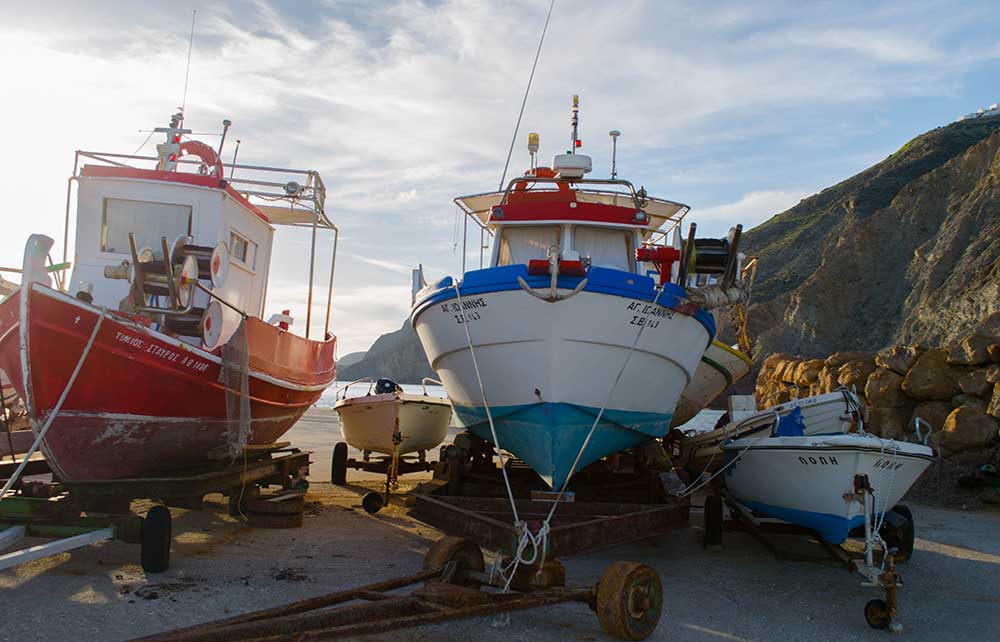 Time of travel:  April 2017
There is a saying that all things that are worthwhile, never come easy. Such was the case with Anafi, as it took almost 12 hours ride on a slow ferry from Syros in the low season to reach this remote forgotten island. As the boat approached I saw a little bundle of white houses perched high up in the hill, and that was pretty much all I could see. As I stepped out of the ferry, the Sun blazed all over us, making the port of Anafi one of the prettiest ports I have ever seen in the Cyclades by far, with two red colored beaches both on its left and right side and a few abandoned old red and blue colored boats that almost showed off like they were ready for a catwalk. Such an idyllic, beautiful scenery , but apart from the people coming off the boat and few hoteliers waiting to pick them up, the town had no people at all. Literally zero. I have traveled to the small islands quite a few times, still I was not prepared for what I saw in Anafi, not a single person, or shop, open in the port area which was definitely not typical during the "rush hour". I drove up for 3km and checked in the pension successfully, but the town center didn't look any better. Two souvlaki shops, one mini market, one taverna – and that was about it.  The only travel agency on the island was closed until further notice (until the peak season as I've been told). I have to admit, I was ready to give up on Anafi, urgently checking the ferry schedules to see what  my alternatives were the next day. The meal at Liotrivi tavern was actually pretty good, a spicy pasta with fresh shrimps and great view, but I was too busy to admire as I was nervously planning my way out. I've been told that Anafi is usually chosen by those who like isolation and wish to stay away from everything, or free campers, so I realized that it is probably the best option for peace seekers in August. For people like myself, or the regular workaholics, it becomes very difficult to relax in an extremely peaceful atmosphere – action calms me down so my unusual urge to leave right away probably made more sense. Still, I decided to give Anafi another shot, and made the best decision of my life.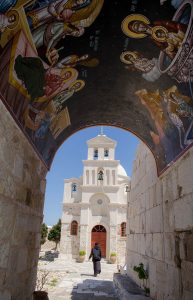 Walking through the Chora of Anafi was a unique experience in the day time. Oh God, the views were outstanding, with one of the tallest mountains in the Cyclades, Kalamos, perching far in the distance.  I drove by the amazing lush green coastline with several deserted beaches to the Monastery of Zoodohou Pigis. There I had an encounter that changed my perspective and set my travel in the right direction.
As I approached I saw a large, yellow stone monastery, surrounded by the most beautiful gardens of all sorts of flowers, plants, and decorations.  A nun by the name of Elissea, who stood outside to welcome her only visitor of the day, rushed to open the large steel door gate and show me around the premises as she explained the history of the miraculous icon.
She seemed to be the kindest person with the nicest eyes I had seen in a long time. We discussed about her lifestyle, which she found to be at peace with, although she was living alone with her sister while watching over the gates of the monastery.  I asked about the other monastery, high up in the mountains, the Panagia Kalamiotissa, about how far is it for hikers and how difficult the route was.
She replied: "You should go up there. The weather is very clear today and you should not miss this opportunity. It has beautiful views and you will be able to take many photos today. If you have a wish/pledge, you can make a special request (tama) and the Panagia is very kind and I promise, she will do everything she can to make it happen. You should go, it is only 45 minutes to go up, and it will take you 30 min to come back down"
"I am on a quest" I said, "but my shoes aren't right" (i.e. wearing plain city sneakers!)
She looked below and said in a very gentle voice: "They will be just fine, some other girls who went up for tama were barefoot, and when they came back there was not a scratch on their feet. Nothing bad happens on this mountain. Panagia is there to protect you". I was thinking about how much time do I have before the sun goes down, how smart it is to go alone, do I have any water, snacks, do I really want to hike in the midday, and before I let my subconscious self take over  I said, "Ok, I'll go". She handles a key in my hand, the key to the monastery uphill, and asks to return it back to her and make sure the door is well locked as I leave.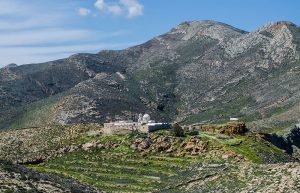 What an adventure that was. The path was more difficult than I though. It started off nice but then it went up and up and up, reaching points where I could only see the abyss and pray that I would not get too dizzy or step on a snake. Somewhere half along the way, as it always happens in life, when I felt too tired to continue without a clear idea where my destination was as the monastery didn't show anywhere on the horizon, and I was too far away to return where I had originally started from, I realized something pretty amazing:
– To reach your goal it has nothing to do with the advice you get from a reputable someone or a good friend.
– To reach your goal it has nothing to do with the equipment which you carry (such as my extremely inadequate shoes)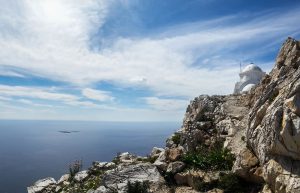 -To complete your journey and achieve something great, it all starts and ends with one single thing – your sincere belief. That is all it takes. The moment I believed that I could reach the top, regardless of the shoes that eventually hurt my knees, I knew that I had to take the only possible direction and would not give up – until I reached the top. Tama or not,  the journey to the monastery of Panagia Kalamiotissa was an experience of a self discovery and as I came back, I thanked nun Elissea for suggesting this remarkable experience, gave her the key to that wooden door, situated 460 meters high up in the mountains, and left a little wiser, happier and brighter.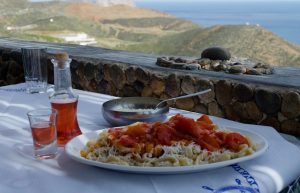 Later I had a wonderful experience trying out the traditional restaurant cuisine, where I met a friendly owner Agapia who was happy to share her stories about the family history. Fresh pasta made on the spot, served with fresh tomato sauce and raki with pomerangade flavor was the best end to this long day. Unexpectedly enough, Agapia listened to my story about the Panagia and then mysteriously said – "It is all true, it was me with my friend in our twenties who walked across the entire mountain barefoot as we asked Panagia to help someone to get well. There was not a single scratch on our feet".
Strange enough, but magnificent, this extraordinary island seems to offer salvation when you most need it.
……………………………………………
You can check more about Anafi highlights in our Destination guides: https://cycladicadventures.com/destination/anafi/
Written by: Jana, Chief Adventurer